Fashion Legends Badgley Mischka to Headline Cunard's Transatlantic Fashion Week in 2020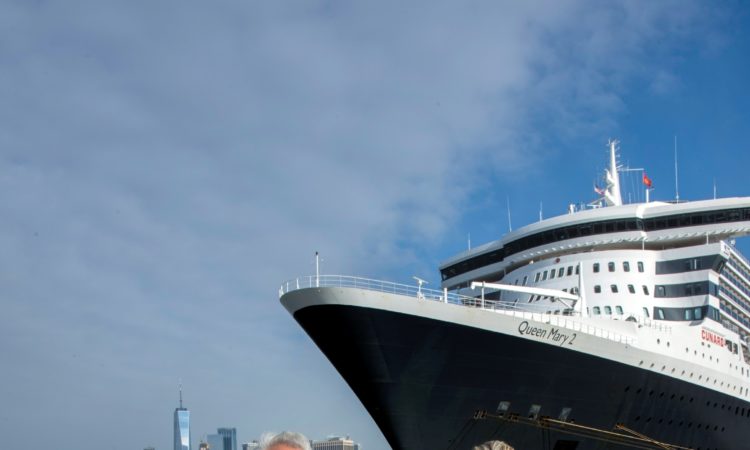 QM2 Fashion Cruise with Mark Badgley and James Mischka
Luxury cruise line Cunard brings glamour to the high seas with fashion icons Mark Badgley and James Mischka, who will headline the brand's fifth annual Transatlantic Fashion Week  on board the flagship ocean liner Queen Mary 2.

Badgley Mischka will launch their 2021 resort collection in an exclusive runway show, the first time a fashion collection has been launched on board a Cunard ship. In addition to the fashion show, Mark Badgley and James Mischka, will offer Q&As with guests during the seven-night Transatlantic Crossing, which departs Southampton, on May 24 and arrives in New York on May 31, 2020. Additional fashion experts joining the voyage will be announced at a later date.

"Our style is reminiscent of the glamorous Hollywood of the forties," said Mischka, "and we feel Cunard emulates that same style, offering patrons a chance to don their best couture and dress for a special occasion."

"Our brands both represent effortless glamour and we are excited about this partnership and giving Cunard guests an intimate glimpse into the world of Badgley Mischka," added Badgley.

For three decades Badgley Mischka has been synonymous with glamour and elegance and known for their stylish and wearable evening wear and accessories. Hailed by Vogue as one of the "Top 10 American Designers" they are an integral part of the fashion world, consistently offering sophisticated style that caters to modern couture customers of all ages. Their timeless designs have been seen on a range of A-list women, including Madonna, Jennifer Lopez, Rihanna, Sharon Stone, Jennifer Garner, Julia Roberts, Kate Winslet, Sarah Jessica Parker, Helen Mirren and Ashley Judd.

"Following the success of Badgley Mischka's recent New York Fashion Week runway show and the appearance of their stunning designs on the red carpet at the Oscars, we are thrilled that this incredibly talented design duo will be headlining our Transatlantic Fashion Week in May 2020." said Lee Powell, VP Brand and Product, Cunard. "Mark and James are true visionaries in the world of fashion and will bring a once-in-a-lifetime, bespoke sense of occasion and experience to guests on board Queen Mary 2."

Cunard is known for hosting fashionable celebrities in their own right, from the days of Elizabeth Taylor and Rita Hayworth, to Uma Thurman and Carly Simon. Former headliners of Transatlantic Fashion Week have included Julien Macdonald, Virginia Bates, and Dame Zandra Rhodes CBE. Headlining the upcoming 2019 Transatlantic Fashion Week voyage this July are royal milliner Stephen Jones OBE, shoe designer Stuart Weitzman, and iconic American model Pat Cleveland.
Tags :
Helen Mirren and Ashley Judd.
Jennifer Garner
Jennifer Lopez
Julia Roberts
Kate Winslet
Madonna
New York Fashion Week
Rihanna
Sarah Jessica Parker
Sharon Stone
Transatlantic Fashion Week
world fashion awards